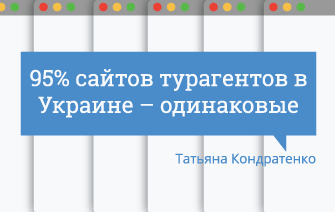 There are cases when you meet a partner with whom it is not only comfortable to work, but it is also useful to talk, because every time you learn something new. 
Today we want to offer you an interview with Tatyana Kondratenko, the head of the company Vitiana (roomsxml).
Starting in 2010, Vitiana, having rebuilt from competitors, instead of "staying fifty thousand" letters with burning tours of the mail, began to produce useful educational content for travel agencies. And today we are talking about this model of interaction with customers – built on the production of useful content, as well as what awaits tomorrow for those who are already working on the embodiment of this new format.
– Vitiana is a tour operator. Why the idea to create useful content for travel agencies?
– To begin with, Vitiana is not a tour operator in its essence. First of all, we are an online booking system for hotels and apartments. We have a tour operator license, because this is required by law, but the essence of the business is different. We do not create tour packages, we do not sell mass destinations, we give the tools with which agents work.
About content – let's define what content is useful. We will look from two points of view: ours and agents, we will see where interests dock. By investing in content, we do it seriously, because we believe that this is an indirect impact on sales. From my own experience, I can say that the quality of the material, its quantity, and relevance for partners lead to greater loyalty to the brand and affects sales.
The goal that we set initially when dealing with content was in the field of utility agents. Because in some areas our partners are good, we ourselves can learn from them which direction to promote, but it's impossible to know everything. Therefore, it is always good when there is an opportunity to draw on the experience of others. We shared our experience so that our partners find it easier to work with us, more clearly, what areas to sell, what trends in the market are taking place. That is, in the end, we set two tasks: 1) to be useful for our partners; 2) increase profits.
From the point of view of the agent, what is the situation: there are very few in Ukraine – I will say diplomatically – publications that would be devoted to Internet tourism, technologies. There is no quality content that would be generated within the company, with translations that would be digestible for our market and mentality, few generate fresh ideas, talking about tools and trends. Therefore, it seems to me that agents of information hunger somehow arise, he needs to scoop this information from somewhere.
– How much has the new format influenced the business model? Did you have to redo the tour operator site or did you just add the necessary functionality to the existing site?
– This is a separate story. The fact is that the site of our parent company, roomsxml.com, is completely minimal. There was originally nothing on it related to the blog and some lyrics. There was information that agents need to start work, answers to popular questions, a registration form and, in fact, a login.
Can anyone recommend our format to any travel agent? First, he needs to answer the question «What is my goal and concept of promotion?», And then decide. «Just» do not need to engage in content (or anything at all). This should fit into the strategy «We decide that we are doing this because …» – and then, based on the explanation, you can create your own content.
– How did content production affect the quantity (and, maybe, quality) of travel agency orders for the company's main product?
– Vitiana shows a steady increase in sales. Key indicator of success is one: net profit. Not turnover, not market share. The turnover interests us «insofar as», the share may be large, but the project will be unprofitable. We are interested in a specific niche and profit.
We see that the content is reflected in the number of orders, but not by itself, but as part of all the actions that we use in our work. Content can not work without quality – and vice versa.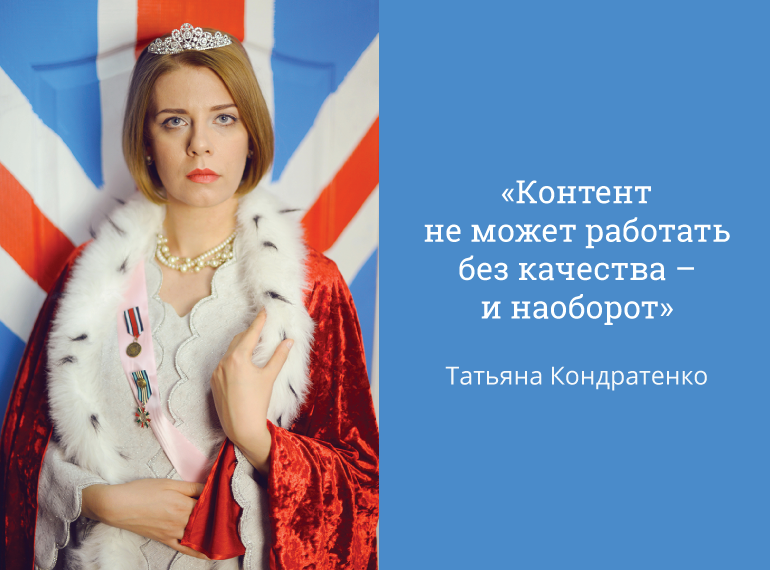 – Let's talk about the content that travel agencies can give (many already do) for their clients – tourists. Why do they need it at all?
– There are such options, why generate content and invest in it. There are two main strategies.
The first is to get new clients, then you need to add CEO-optimization, seriously scroll the site, invest in both content and promotion of your resource. This is a dear, long way and not a fact that it is correct for a small company. You can not live to see the happy moment when, through promotion through Google AdWords, the purchase of reference mass, investment in all sorts of organic things – this is a very expensive experiment. I had such things in practice when we decided in another company that we wanted to promote the site. We were busy, spending about $ 500 a month to keep Google search queries for several countries at the top. But this did not give us anything special in the end, the «minus» came out.
The second strategy aims to help build the loyalty of existing customers and make them want to recommend you to friends and acquaintances. Each agency has its own customer base. A separate question is whether it is framed as a base or is in a chaotic state. But somehow it is. We need to communicate with these people: when they come to buy a tour, when we call them, we congratulate them on holidays and invite them to events, when we send them a newsletter.
When we are recommended to our acquaintances, the person either calls us or – which is more relevant now – opens the Internet, visits the site and looks at what is happening there. If he sees on the site the same thing as in all the others, then this does not add to him the desire to get to know us before the "start". That is, until the moment when the manager who starts the direct sale to the client turns on.
– What types of content, in your opinion, can bring additional leads to a travel agency?
– If we are talking about additional leads, then this is the first strategy, first of all. That is the whole complex for promotion and advancement. I believe that such a decision from thousands of companies is fully justified (and by force) for 5-10. Now on the market things are so that you need to focus on those who you already have.
Explore the geography of travel, where your customers go. There is a fundamental rule of business: write about what you are going to sell. And sell what we write about. If you have no Africa in the range, then you should not write about it, if you are not going to do a serious business on insurance, then do not write about them. We are exploring the options that we can offer, strong positions, proven (including personally) countries, directions that are developed by our partners.
– What about competition? If everyone starts producing content … What happens then?
– This is impossible, in principle :) 95% of sites in Ukraine are more or less the same. Content is not the thing that brings results today. We have certain business traditions in our country, everyone wants to "survive" the season. The planning horizon is not even a year, but much smaller. Content production is more complicated than declaring discounts or moving an office; this is a long-term strategy. The percentage of companies that invest in it is minimal. At any event, you can ask guests "Do you do content?" And, I am sure that from the whole hall there will be 5 hands maximum.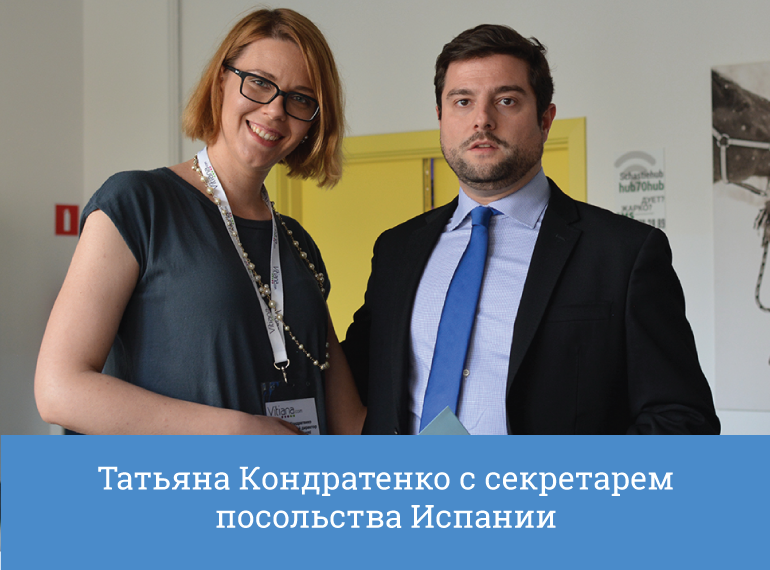 – Ok, this is understandable. And what types of content are now most useful / popular?
– The most popular on the Internet are the seals and something else. Nowhere not to get away from this, one way or another should be present such things, especially in social networks. Moreover, the content for them has its own characteristics, as well as planning. And here there are differences from what appears in the blog, where the materials relevant for the interests of our agents go primarily.
About the most useful – the price first. Everyone is interested in: is it worth it to place them? Of course, it is worth it, but according to the classics no more than 20-30% of all content may be associated with prices. Information about countries – yes, it can be, but not something that is taken from Wikipedia. Again, personal experience: if we know Italy well, then let's write about it, and not try to portray something, say, about Tunisia, where we have never been.
– Often, those who begin to write use a formal language of presentation, like «the selection of tours that best matches the interests and wishes of clients, which promotes complete coincidence …», which actually means «we will find out what you need and find the perfect tour … ». How to avoid it?
– We must go on my own, first of all. Agencies are, as a rule, a mobile business, there is no big bureaucracy, a lot of coordination levels. If managers are able to get the necessary style of presenting information out of themselves, then you need to demand it from them.
More correctly from the "classical" point of view is to study the audience, to understand what it wants. The problem is that people often do not know what they want, limited to previous experience, this leads to the fact that you will have the same content as all the others.
In the current situation, it is logical to go on your own. If the hippie company is informal, then this should be the content, and you should not worry that someone will not like it. Because any content will not like 100% of the audience.
– Another «painful» question for those who produce content on an ongoing basis – where to look for inspiration? Where do ideas come from?
– Where to looking for? Of course, on our website, in the «Blog» section J If a little more serious, then come to our joint with Otpusk.com seminar «How to become a tourist's friend with the help of IT», where we will take a closer look at this and other questions about the selection of content.
– And how to distribute this content? What channels to choose? Pay or not pay for promotion? How often to publish? How fast to wait for payback? And how to plan it?
Let's step by step. How to distribute: there are paid options, there are free. We are now talking about free. Because it is very risky to just start a blog and immediately start trying to push it everywhere. At the very beginning you are looking for your style, quality suffers, it's better not to see this for the people. You need to understand what you are, develop a style and presentation, and then deliver it for money. Therefore, it is better to first publish the content on the site, at least a month or two, to give it to the most loyal customers (mother, cat, underline) to read, in order to understand how you do it.
When it becomes clear what is happening, then we start broadcasting via social networks. We create our own group and page in FB, so that your customers can immediately see that you are engaged in content. Yes, in fact, you are already engaged in it, but it is better for people to see it when you have something to offer. So that there is no situation like with a boy who shouted "Content! Content! ", Oh, that is," Wolf! Wolf!".
The second option is mailing. The third is a maximum of references on its resources in letters of appeal to customers. Fourth – when you look the customer in the eye, this is the best moment to introduce him to your content. Often, sales end with the deal itself, the money was paid by the fine fellows, but you can get a lot more.
About the frequency of publications – ideally, some information should come out once a day, unfortunately, this is unrealistic for an agency. Therefore, I think that if at least two publications appear a week, this will already be a victory.
Payback? If we are talking about a long-term strategy, then it is worth waiting for it in a year or two of work. As for media planning, this is a vast topic, but the simplest thing an agent can do is take a holiday calendar, build on weekends, days when sales can be expected to increase. Say, for the May holidays, you can run something in February-March. Also plan preparation for the New Year holidays, etc.
– What other elements on the travel agency website can (should) be for the greater involvement of the tourist in your opinion?
– We can divide content into static and that which is updated constantly. Static is information about the company, FAQ, team presentation, portfolio of large projects, training materials. This is content that can be used throughout the year. The second type is what goes on the web and blog.
– Maybe you have an example of a travel agency that, with the help of useful and / or entertaining content, attracts more tourist-clients?
– If we are talking about content not as an abstraction, but as a kind of story, then this is what we want to say to whom. This is positioning about your idea. As examples of such agencies, for example, «Hemingway was looking for him», they have an interesting presentation.
There are things that are well positioned and just write content for them, for example, Girls in travel. I am sure that a lot of agents tried to approach the idea of ​​women's tours, they had to dig in well here – these guys did it all right, they regularly have tours, their own party – and all this when they say that the market fell. They are not concerned, they have a completely different product. Find your niche – and win.

–––––––––
*The opinion of the company ODEV may not coincide in all positions with the opinion of the authors. Only 95% :)